GSU reviewing surveillance footage after student robbed in library | News
ATLANTA -- Police on the Georgia State University Campus are working to identify who robbed a student inside the school's library.
The incident happened Thursday around 9:15 a.m. The suspect stole a laptop and a phone. Before doing so, he asked the victim, "Did you ever get shot?"
GSU Police officers are reviewing footage from one surveillance camera after another looking for some sign of the person who held a student at gunpoint inside the campus library on the fourth floor.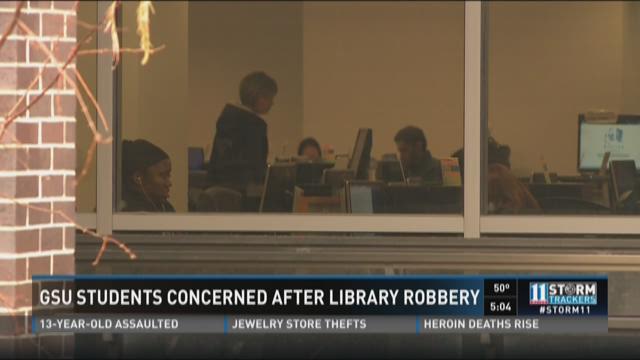 "We have over 1100 cameras on campus, so we're going through cameras and we're looking at people who fit that description trying to enhance those videos and see if we can catch this individual and put a picture out to the public,"
The library is open to the public. Students have to swipe their ID cards to get inside.  Non-students have to show an id, and their information is recorded. Police are reviewing those logs.
Deputy Chief Mullis said it is the third incident that has happened in the library since Dec. 15 when another suspect stole a students' laptop and cell phone inside the library. Then two days before Thursday's robbery, a suspect snatched a student's cell phone off a table in the library.
Police said they are adding even more security than what they had earlier in the week. 
The  victim said the suspect in Thursday's robbery was a black male wearing a blue jacket, tan khakis, and white shoes. He is described as 6" and 180 pounds with a beard and low style haircut.
Anyone with information about the robbery is asked to call GSU polcie at (404) 413-3211. You can also call the tip line at (404) 413-3211.