Resident pulled into government's red tape | News
ATLANTA – An Atlanta man is frustrated that the street lights near his house don't work. He's reached out repeatedly to the city to no avail.
Three months later, Matt Henderson continues to be update that no one will take responsibility to fix the problems on John Wesley Dobbs Avenue.
Henderson has heard of government red tape, but this time, he's actually been asked to tie it himself.  It was Henderson who marked several poles to help crews identify the street lights that didn't work.
"When I walk home now, I can barely see my own hand in front of my face," Henderson said.
 
Henderson walks about a mile every day to his job at Georgia State. Right past an abandoned school that still attracts plenty of visitors.  When he started complaining about the street lights, there was still plenty of natural light outside.
 
"I was walking home one night thinking, do I need to call a cab or Uber or something to go three blocks back home," he said.
 
Henderson reported the problem to 311 -- the city's customer service line. About two weeks later he received an email saying his request had been completed and closed.  But the lights still didn't work.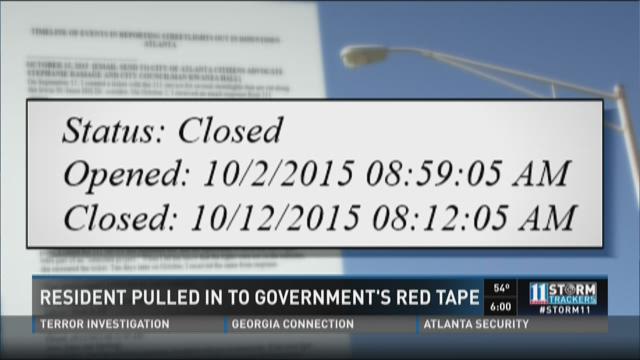 At first the city said it only "maintains streetlights that are on metal poles" -- not wood ones.  But these poles are metal and Henderson sent them the ID numbers to prove it. Their response to that was to insist this was actually Georgia Power's problem.  It went round and round for weeks because the utility disagreed.
 
"I am getting frustrated because no one will take responsibility for the lights," Henderson said. "No one will say, 'This is our problem, here's what we're going to do to get these lights fixed.'"
 
Along the way, he says Georgia Power asked him to mark the poles causing the problems.
 
"It did seem a little bit odd to me that I'm spending my own money going and buying this marking tape, spending my own time and going through, marking all of these power poles," he said.
 
Henderson says three months later, he's just tired of the red tape - literally.
 
"I just want someone to say, 'We understand, here's why these lights are out and here's what we're going to do to fix it,'" Henderson said.
Since Henderson reported the lights out, police crime data show there have been 11 larcenies, three burglaries, three aggravated assaults and one stolen car along his path to work. There's no way to know if lights would have helped, but Henderson says it couldn't have hurt.
On Friday, the city told 11Alive's Rebecca Lindstrom that these lights are connected to the interstate lights. The city says they've requested an emergency procurement to get the stretch fixed, but even if they get it, the work won't start for another year.