Police: Teen dead in police shootout in downtown Atlanta | News
ATLANTA -- Police say one person died after an officer-involved shooting in downtown Atlanta Monday night. 
The incident happened on Ted Turner Drive near Baker Street just before 8 p.m. outside the Aloft hotel. 
Atlanta police said that officers saw a vehicle driving the wrong way on Ted Turner Drive. As officers made a U-turn to make a traffic stop, the wrong-way vehicle was involved with a crash at Ted Turner and Ivan Allen Blvd. 
After crashing, police said two men jumped out of the vehicle and began to run. The driver was apprehended at Williams Street and Ted Turner Drive. The second man ran behind the Aloft hotel with a handgun, police said. He then allegedly began shooting at officers, who returned fire. The suspect was shot multiple times and died. 
No officers were injured. 
On Tuesday, the Fulton County medical examiner's office identified the passenger as Darius Smith, 18, of Greer, S.C.
RAW VIDEO: Officer-involved shooting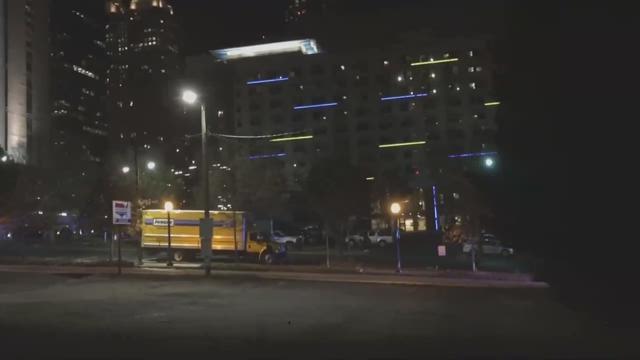 According to police, three weapons were recovered: one firearm outside the vehicle, one inside the vehicle and one on the person of suspect.
Two pounds of marijuana, 60.6 grams of cocaine, 10 Ecstasy pills, 5.8 grams of MDMA and $6,000 in cash was also found, along with a black mask and black gloves.
The driver of the vehicle, 18-year-old Isiah Irby, also from Greer, S.C., has been charged with possession of a firearm during the commission of a felony, possession of marijuana with intent to distribute and trafficking cocaine. He is being held at Fulton County Jail. More charges could be filed, police said. 
The incident is the eighth Atlanta Police officer-involved shooting of 2015 and the second fatality.. In 2014, there were 10 officer-involved shootings and one fatality, according to police. 
PHOTOS: Officer-involved shooting