Scaffolding falls on man at new Falcons stadium site | News
ATLANTA -- A man was hurt after metal scaffolding fell on him Wednesday morning.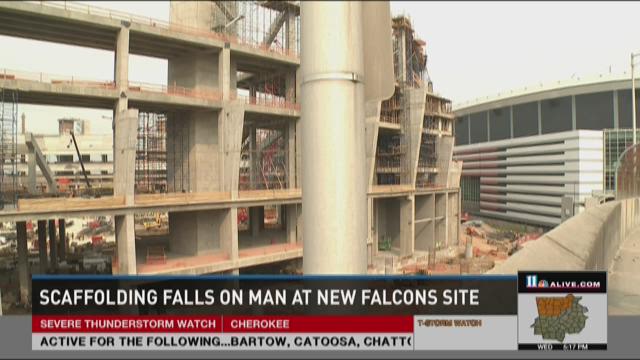 It happened at the intersection of Mangum and Mitchell streets in downtown Atlanta -- the construction site for the new Atlanta Falcons stadium.
Officials said the man suffered a severe head injury. An Atlanta Fire spokesperson said the victim was not alert and may have been unconscious after being hit. He was taken to Grady Memorial Hospital.
A witness described the scene to 11Alive.
"And I just came over and I see the guy on the ground; I see the scaffold on him," Aashiq Bisnathsing said. "They moved it; put him in a stretcher and just took him away."
Bisnathsing said his injuries looked serious.
"He was bad though," he said. "Because his kids were crying."
An official with Holder Construction Company on behalf of Holder, Hunt, HJ Russell and CD Moody construction companies - all involved in the project - said the incident happened during the scaffolding removal process.
Since the incident, the accident has been secured and officials with the company are now conducting their own investigation into the case of the collapse.
"Our primary concern is for the safety and well-being of our workers," a company spokesperson said. "Our thoughts and prayers are with the injured worker and his family."
Occupational Safety and Health Administration (OSHA) has opened an investigation into the incident as well.